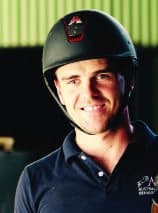 Alistair McLean, Diploma of Equitation Science
Director & Head Trainer/Coach, Australian Equine Behaviour Centre
The son of Andrew McLean, Alistair was introduced to horses at an early age. He began riding at age 4 and competing at age 12. As a professional trainer and coach at the Australian Equine Behaviour Centre, Alistair demonstrates a clear aptitude for producing well trained, calm and sound performance horses. He is also in demand as a clinician in Australia and internationally. Most recently, he presented at QLD Festival of Dressage and Equitana.
In 2010, Alistair and his partner Rikke began their own business in Europe starting young horses. Together, they've earned a reputation for being patient and compassionate horse trainers. Upon his return to the Australian Equine Behaviour Centre in 2013, Alistair began his role as Director and Head Trainer/Coach, and he continues to specialise in the area of foundation training.

Read More
Influenced by his parents, Andrew and Manuela McLean, along with his brother, Warwick McLean, professional rider Brett Parbery and coach Anjanette Harten, Alistair possesses a natural talent for identifying and rectifying Problem Behaviours. However, he is not only passionate about enabling performance horses to achieve their full athletic potential, but also empowering riders to continue their horse's training at home.
A competent Dressage rider, Alistair is currently bringing his team of young horses up through the levels and achieving notable success. He is consistently scoring about 70% and placing within top five. With a particular interest in Dressage, Alistair intends to develop a clear training system to educate horses from foundation to Grand Prix. Through his role at the Australian Equine Behaviour Centre, Alistair aims to continue producing consistent and high quality performance horses that are prepared and educated to excel at all levels.
show less